"3-Day Murder Mystery Getaways"
Wining, Dining & Live-Action Role-Playing in Luxury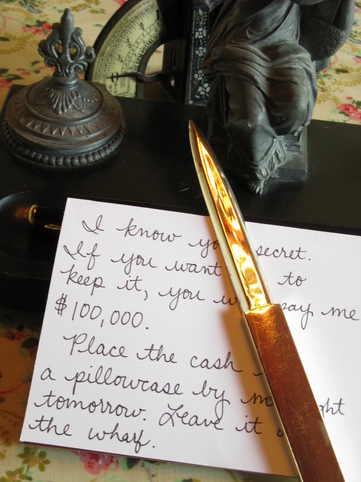 2019 Weekends
January 25-27: "The Heist"
February 22-24: "The Bitter Taste of Newport"
March 1-3: "The Bitter Taste of Newport"
​
*For availability and pricing, please contact the Architect's Inn directly at
401-845-2547.*
*All-inclusive Package guarantees:
~ 3 gourmet meals, including a 4-course dinner
~ Lodging for two evenings in an historic inn in the heart of Newport
~ Scavenger hunt throughout the local sights and shops of the City-by-the-Sea
~ In-depth character profiles to aid your role-playing and sleuthing
~ Awards ceremony at the end of the mystery
Awaken your inner Sherlock Holmes, Watson and Professor Moriarty.
Will you be a suspect, red herring, accomplice or murderer?
All are fast-paced, engaging and guaranteed to spark your inner child and performer. (Have unique theme or story-line ideas? Send them our way...we always love a challenge and excuse to play.)
"All's Fair in Art and Money"
become a member of the "Collectibles" art & antiques club
"I Do or I Die"
you're invited to the Randall-Frasier wedding; fourth time's the spell for Nicole & Neil
"The Heist"
pull the con-of-the-century with ringleader Davy Brooks
"Hearst's Hollywood: Stars of the Silver Scream" (1920s)
-- achieve cinematic fame by creating the first "talkie," and in Technicolor, too
"The Bitter Taste of Newport"
test your culinary wits and skills with Chef Dom in this intense reality show cook-off
"Royal Flush"
place your bid in this underground gambling club & tournament
"The Amazing Case: Rhode Race to Riches"
compete to be the best bloodhound in this mega mystery and super scavenger hunt
We create a full-length mystery for you and participating guests to be the characters, detectives, suspects and, in some instances, the murderer (just be careful not to end up the victim). All guests receive character profiles that are customized to fit their personality, interests and comfort levels. Whether you view this getaway as a "murder mystery that happens to be in Newport" or a "vacation in Newport with a murder mystery thrown into the mix," our crew guarantees that you will walk away happy.
All-inclusive package includes a welcome dessert reception on Friday night, two gourmet breakfasts, a four-course gourmet dinner on Saturday evening, and a big side of mystery, intrigue, and role-playing! Are you a Celiac? Vegetarian? Vegan? Lactose intolerant? Health conscious? Not to worry at the Architect's Inn! Any and all special food allergies or dietary restrictions are carefully catered to by gourmet chef Brian Handley.
Prepare yourself to complete at least one task throughout the day on Saturday that will take you around Newport in an exciting and intriguing way that relates to the story-line and overall theme. Keep your ears and eyes open for clues during your site-seeing and relaxing, as well as your phone handy - you may receive text messages or calls with updates or opportunities for extra clues. Tasks may lead you to:
~ a favorite cafe or pub
~ a wine and/or beer tasting
~ a tour of a Newport Mansion
~ an antique shop or rare book store
~ an outdoor landmark or one of Newport's beautiful beaches
...and many more gems of the City-by-the-Sea!
Sign up for your personalized adventure today!
Attend with family, bring a friend or simply treat yourself; however you decide to come, come prepared for a fast-paced whirlwind of wining, dining and sleuthing as you laugh, relax and bond with other like-minded private eyes.
Let the mystery begin… Mmmwwwaaaahhhaaaa…
Want an abridged adventure instead? Ask about our scavenger hunts.
Unique, action-packed & brain-bending, they are the perfect bonding activity for families, friends and co-workers.
Hunts range from half-day to two-day events and can be customized to suit your group's interests.
Pricing dependent upon number of guests, length and customization.
---
3 meals, great laughs &
a murder!


Enjoy dinner while you sleuth

Complete with wine, signature drinks and dessert on Friday, breakfast and a 3- course dinner on Saturday, and an awards brunch on Sunday,

the

food alone is worth the price

!

---

Ripped from the Headlines


Reviews from our guests


"Where else could one stay where they were treated like a queen, ate like a king and played like a child for three days?"

"Great balance between story time and free time to go see Newport."

"The accommodations were divine and a culinary delight. The humor raised the roof - a laugh out loud romp. The play transported us to a reality of the characters. A journey of mystery, deception and credibility."

"A stay in Newport in a nice comfortable room and home, with great meals and entertainment throughout the weekend - at the price, I thought it was an exceptional value!"
"All's Fair in Art and Money"
As part of an art and antique club, the "Collectibles," you have been invited to a special weekend away. This house warming party for one of your members turns deadly when art is stolen, a mysterious guests arrives and the Newport police are brought to the scene. Scour the city to unlock the secrets of a dark and mysterious plot.

"I Do or I Die"
Save the date!
Neil and Nicole cordially invite you to celebrate their marital bliss in beautiful Newport, RI.
Tying the knot at their destination wedding quickly becomes a complicated plot when members of the bridal party go missing and new meaning is given to the term "cold feet."
Will it be "I do" or "I die" at this wedding-turned-funeral affair?
R.S.V.P. before you R.I.P.
"The Heist of Newport's Treasure"
A Newport millionaire has hired you as part of an elite group to pull the con-of-the-century.
Arrive on Friday to meet your team of usual suspects and be briefed on the game plan for Saturday's heist.
But when someone leaks important information to the target (or worse, the FBI), you'll be sent on a chase to save the mission and possibly your life.
Is there a mole amongst you?
Use your criminal instincts to take out the trash.
"Hearst's Hollywood: Stars of the Silver Scream" (1920s)
Newspaper tycoon William Randolph Hearst, Jr. is attempting to make cinematic history by producing the first "talkie" film, in Technicolor. He has invited you and other Hollywood bigwigs and hopefuls to make cinematic history with him. You will stay in his Newport home he has converted into a jumpin' gin joint. How far will you go to be a star? Remember, if you can't be famous, be infamous.
"The Bitter Taste of Newport"
When a famous chef invites you to come for a weekend of private lessons and cooking competitions, you don't say no! But you might murder the cruel and condescending culinary codger! Set in present day Newport during Newport's Restaurant Week, come for fabulous food and murderous malfeasance! If you should survive the weekend, you will walk away with some amazing recipes, kitchen tricks and a rekindled love of home cooked meals.

"Royal Flush"

Unleash your inner Sam Spade in this competitive and cutthroat competition for $1 million. Suit up and put on your poker face for a weekend of gambling and gaming in the sinful City-by-the-Sea. Try your hand in Poker, Cribbage, Bridge, Black Jack and more in this underground cardsharp club. Play your cards right and earn your diamonds…will the Queen of Hearts be on your side?

"Cardigan's Wake"

Witness the reading of millionaire Cooper Cardigan's last will and testament.
As an acquaintance of the beloved benefactor, you have been invited to honor the deceased with his family, friends and business partners at his Newport summer cottage for a memorial weekend full of wining, dining and reminiscing.
But when the will is read and inheritances aren't actualized, mourning makes way for murdering.
Keep your assets close in this family feud and begrudging battle for Cardigan's cash.
Will you be crying tears of joy, sorrow or terror?
"The Amazing Case: Rhode Race to Riches"

Attention All-Stars: you have been selected to compete in "The Amazing Case," the ultimate scavenger hunt with more adventure, more action and more assassination.
As experienced private eyes, you have proven your worth to battle the best of the best bloodhounds.
Competitions will test your strength, speed, sensitivity and sleuthing smarts, in a fast-paced race to the $10 million prize.
Will you walk away a winner or a whiner in this reality-meets-game show mega mystery?